Vijay's Leo is finally out and is running to houseful shows worldwide. But cinematographer Manoj Paramahamsa has no time to take in the feedback and celebrate. He's currently stationed at Hyderabad, where he's shooting Mahesh Babu's Guntur Kaaramwhile also working on the streaming output for Leo. But that doesn't stop him from getting on a call to spill the beans on the lengths they had to go to make the Lokesh Kanagaraj-directorial succeed.
Excerpts from a conversation:
From Kashmir with love
Before the shoot, Lokesh suggested I watch Kaithi and Vikram. When we started, the story wasn't based in Kashmir, but in a suburban place in the southern part of our state to stick to his pattern of films as far as lighting and night effects were concerned. But the priority in Leo was always Vijay sir's performance, so we weren't bound by location issues. Lokesh also prefers shooting live instead of using sets, and as the story was written keeping a hill base as the backdrop, we zeroed in on Kashmir. It also helped connect with the story, as it shows that he has gone so far from his past. We usually go to such terrains for song shoots, but to shoot the majority of a film — with a lot of action sequences — was quite challenging. Because of the mist and poor lighting, we were only able to shoot from 11 a.m. to 4 p.m. with a two-hour break in between.
Power shortage is a common problem in such areas. Moreover, there was also static electricity from which we insulate ourselves with more clothing layers. Even a camera conked off because of the temperature; since all my shots are lengthy takes, cameras heat up quite a lot and the cold temperature outside can mess up with the mechanics as the lithium batteries expand. But I carried six to seven cameras, so we were well-equipped. With the experience of shooting Radhe Shyam in places like Italy and Switzerland, we anticipated the challenges and took precautionary measures. So the only other major concern was the logistics involving more than 300 of us, but the town folks and military supported us a lot.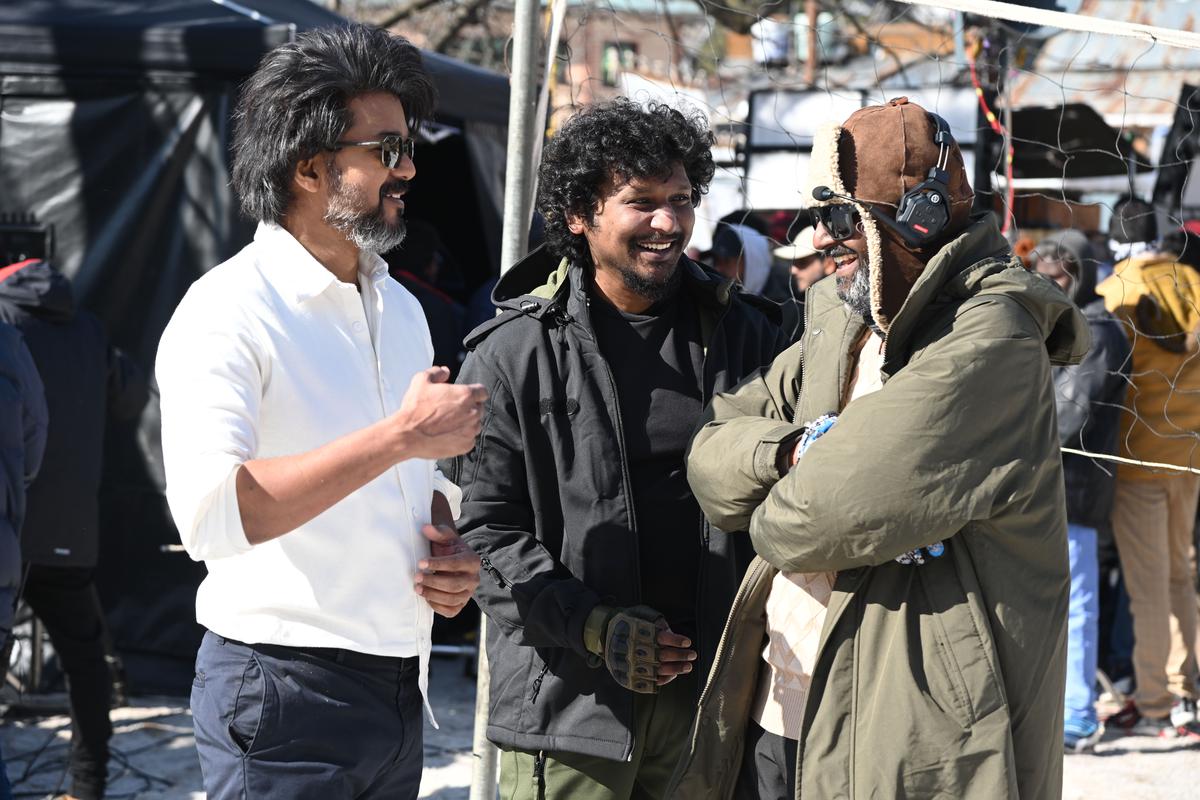 Through a new lens
We decided to shoot the majority of the film, except for action sequences, in a mise-en-scène style, in which the actors perform in a flow that won't be interrupted and ibe captured in either single or multiple cameras. While this style might help us from taking multiple takes for other angles, we have to make sure the lighting works from all the camera angles, especially if the characters move. We predominantly had three cameras that were mobile all the time out of which one was the primary camera that picked up the important shot. As the artists won't know this, the shots would turn out quite candid. Since we have remote-controlled equipment, it wouldn't disturb the actors' flow.
We did shoot extreme close-ups alone again, and for that, I used a 3-D macro lens that gives a lot of depth; if the eyes are focused, the ears would be out of focus! This enhances the performance, because, unlike other stories where location or situation tell a story, here it's a person saying his story. I'd usually opt for deaging and soft lighting for such close-ups, but Lokesh likes it to be rugged and that's why the gloss you saw in Beast won't be present in Leo. One set of continuity lighting that can double as off-lighting and direct lighting made it look like a natural source, and that aided the rugged-ness.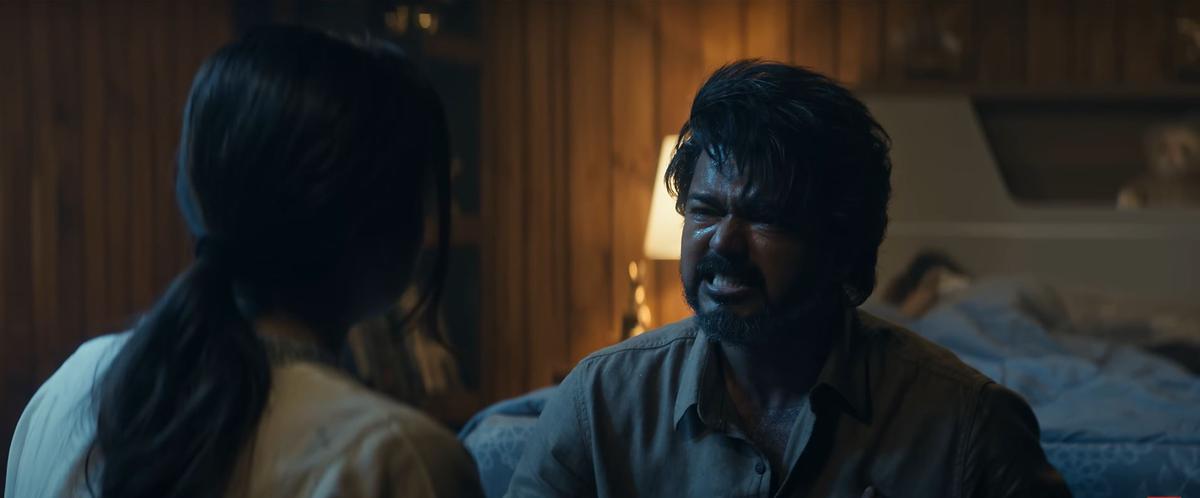 An advantage for the editor is that he gets three time codes synced in his timeline and he has the option to choose visuals from any shot. For example, the cafe scene involving Vijay sir, Gautham sir and Trisha; despite it being a simple scene, it was shot from three angles and wherever we needed close-ups, we did that too. In the emotional 6-minute scene between Trisha and Vijay sir, we opted for a single shot as there were so many emotions flowing. It was challenging because I wanted the silhouette in the master shot, with very little off-lighting, Also, we needed to ensure that light did not fall on the shadow as well. It's similar to how sitcoms are shot, but unlike them, we dynamically move through the scene to enrich the cinematic experience.
A technological marvel
There's a technology called visual production through which we can pre-visualise how to go about with camera movements, like for the fast-paced hyena sequence. We use a real-time 3D creation tool called Unreal Engine that's usually employed in the gaming industry. We actually have our own company, Stage Unreal, which I co-founded with visual effects designer Mr Srinivas Mohan (of 2.0 and RRR fame), via which we can pre-visualise all the action sequences. We did this for Radhe Shyam through a US-based company and they cost a lot. But we liked the technology and realised it can help in everything from scheduling a scene to figuring out the complicated shots.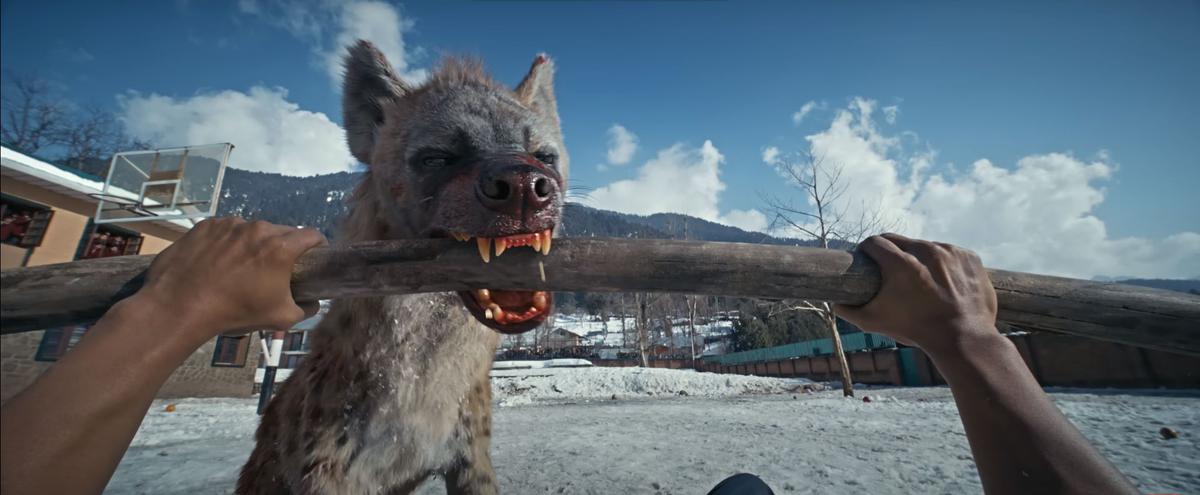 Today, our films need a certain level of grandeur that cannot be achieved without VFX and the budget we spend on it (like we did for Radhe Shyam) is usually how much makers spend on a complete film itself. That's when we decided to do it ourselves and get the skillset and knowledge. We designed the hyena sequence as an animated clip with scaled-up sets which we got from scanning the entire area via a drone that we later mapped into a 3-D image. We do leave space for improv; the shot where Vijay sir jumps and catches the basketball hoop, for example, was one such decision we took on the spot. The action choreographers Anbariv also gave some valuable inputs.
The problem with CGI in Indian films is the lack of preparation. Only after we deliver the footage, do they work with whatever we've given. We wanted to bridge the gap between cinematographers and VFX artists. For example, I can simulate an image of an elephant walking across the studio by adding a rig atop the camera. While it's not physically present, in my camera's second monitor, you can see the elephant. So, now I can compose that element by knowing how far I have to go to capture the full figure and work out the lighting as well. Similarly, we used it in the car chase scene and this helps to judge something as basic as how much pullback the camera has to do to capture a car flipping. I will already have the car flip simulation, so I can edit it and see it on the shooting spot itself. Then the work of CG comes in and that's to add photorealism.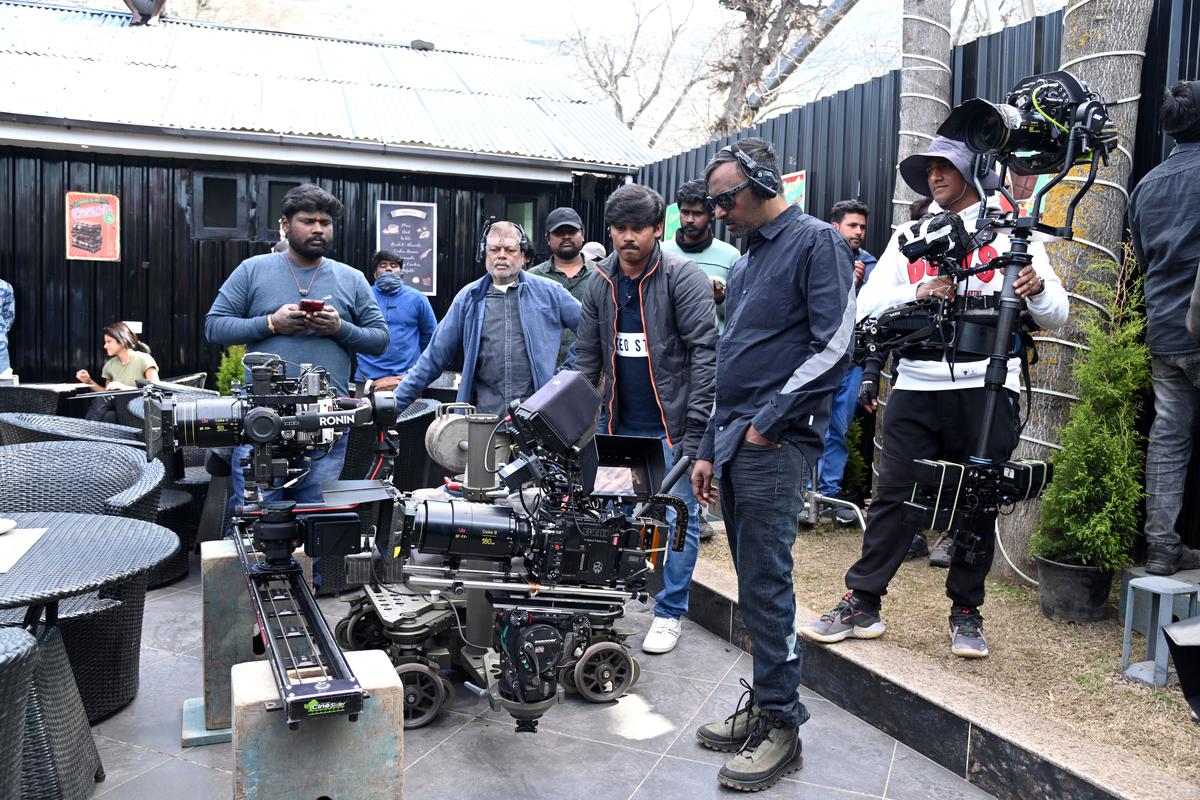 The extreme of this visual production is using LED screens to generate images instead of shooting on a green screen. The promo, for example, was shot without taking Vijay sir to Kashmir. Yet, it might have the visuals of those parts over the window of his workshop. Since we're using gaming technology, it considers the camera to be a first-person game character and as it moves, the graphics are happening in real-time. We shot Prince's flashback portions and Radhe Shyam's rain sequence using LED screens. In Leo, it helped with the technical aspects, previz and postviz. We don't want to replace CG companies but make sure the content handover is more seamless so that they don't worry about lighting references, wrong scaling and lensing. The homework we did makes Leo look as good as it looks. This makes planning easy, as we spent two and a half months preparing for the car chase scene but shot it in just one day.
Starting from scratch
Lokesh and the stunt directors Anbariv know about my fascination with building my own cameras instead of just mounting a camera on a track and trolly or crane. This is because this is what many would get for rentals, and those in that business would only stock the ones that are regularly loaned. This is why I build my own rigs and they help in the point-of-view shots which we've used from the hyena sequence to even going to the length of rigging a camera to a gun as Lokesh loves firearms.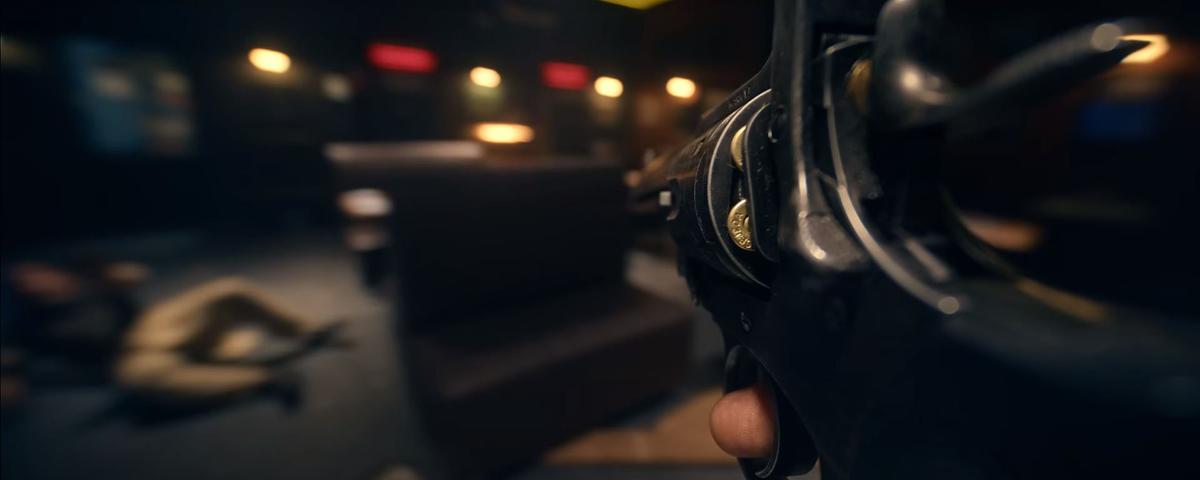 In Beast, we had to restrict the camera movements because Nelson prefers static shots mostly and the biggest advantage with such shots is our control over lighting. But I'm crazy about camera movements and even Vijay sir would joke about the lack of it. Anbariv saw my work during Beast fight scenes where we were able to use some movements and they shared it with Lokesh who also loves camera movements. In fact, many of my rigs were used in Vikram. On the first day of Leo's shoot, Vijay sir told me to forget the previous film's lighting and deliver the darkness Lokesh wants. I wanted to show some differences between the two films and while the sensors stayed the same, we played with the lensing which can change the characteristics.
Beast is shot with a spherical lens which gives a 1 85 aspect (full format ratio). That's why Beast won't have black bars and unless watched on an IMAX or PLF (Premium Large Format) screen, there will be some image area that's cut. Lokesh doesn't like that format and prefer his film to look the same as the ones he used to watch in his childhood. He would say that he didn't have the opportunity to shoot on film so he wants to at least stick to the same aspect ratio with black bars. That's why, for Leo, I opted for vintage optics that are called anamorphic lenses. It gave a new look and characteristic.
Lights, camera and action: On the much-discussed car chase in 'Leo' and more
The only action sequence we decided to daringly go ahead with the same mise-en-scène style was the car chase scene; unlike regular scenes where stunt doubles perform stunts and cars are flying, we wanted the hero to be in focus throughout the sequence. This style of making was the major change we did for Leo as far as staging and shot division are concerned.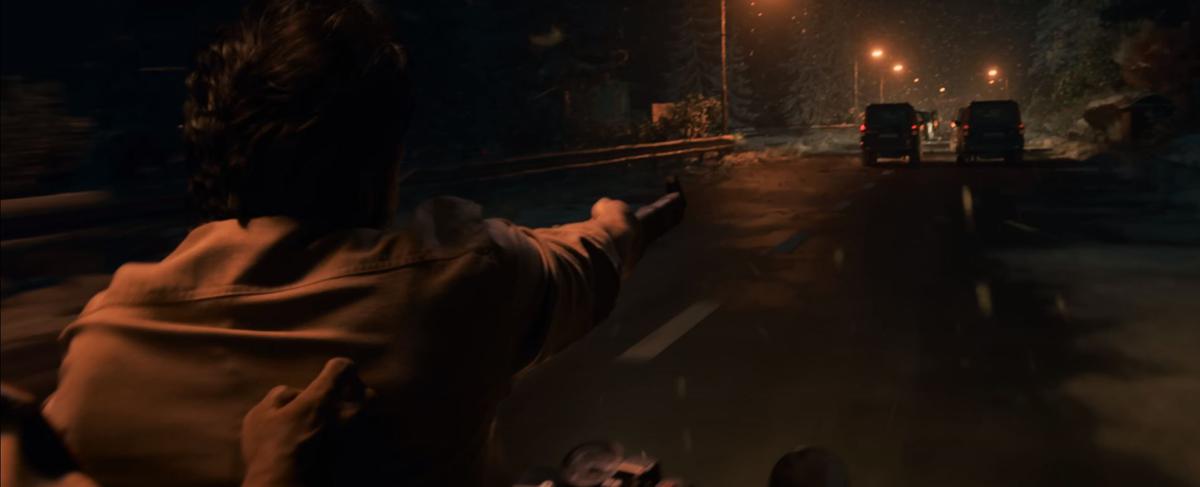 Many are talking about the eagle POV shot we have in Leo's second half, but for the very first hyena sequence, we used the same set-up. We couldn't shoot it with physical or drone cameras as it was a fast-moving shot, so we went with FPV (first-person view) cameras. We got operators from Mumbai who are used to mounting GoPros on these cameras for adventure sports. We mounted the KOMODO camera on it with a specialised rig and freshly coded stabilisation software. We used it again for the market scene by lowering the stabilisation to give it a shaky feel. The FPV camera is a manually-assembled equipment that flies remotely and is manoeuvred via goggles and shot from the first person perspective.
Watching me use it often, Lokesh and Anbariv also got hooked on it and used it for the eagle sequence at the end. We also tried it for other shots where they end up bumping into objects and failing, and for that, we replaced them with rope-rigged cameras; like the police station scene wherein we had to move the wide lens camera backwards fast, as Vijay sir chokes a cop while bringing him out of the building. But in that scene, we would've staged it in a manner only where his expression is noticeable. Similarly, in the scene where Sanjay Dutt sir's character meets Leo, the coffee shop set had a wall with wings painted on it and we wanted his face between the wings. To give it an opposite reaction, we got the art direction team to draw on the wall behind Vijay sir's character to show Jesus' crown of thorns over Leo's head. There's so much that goes behind the scenes, but that shouldn't be evident to the audience as cinematography should just be a storytelling tool.
The calm and the storm
As far as the colour scheme is concerned, I took the volcano as a reference; it's usually a snow-capped mountain with boiling magma within it. So for the first half showcasing his current life, we stuck to whites. Lokesh's films have a dirty yellow tone but I convinced him to use orange this time, which we used predominantly in the second half. This was fixed beforehand and even in the first half of scenes, where there was a lot of natural warm sunlight, we changed it to cool in post-production because the second half will be warm in every sense. That's why right before the interval when he's forging traps, the surroundings would be cool but there is a tint of orange on his face.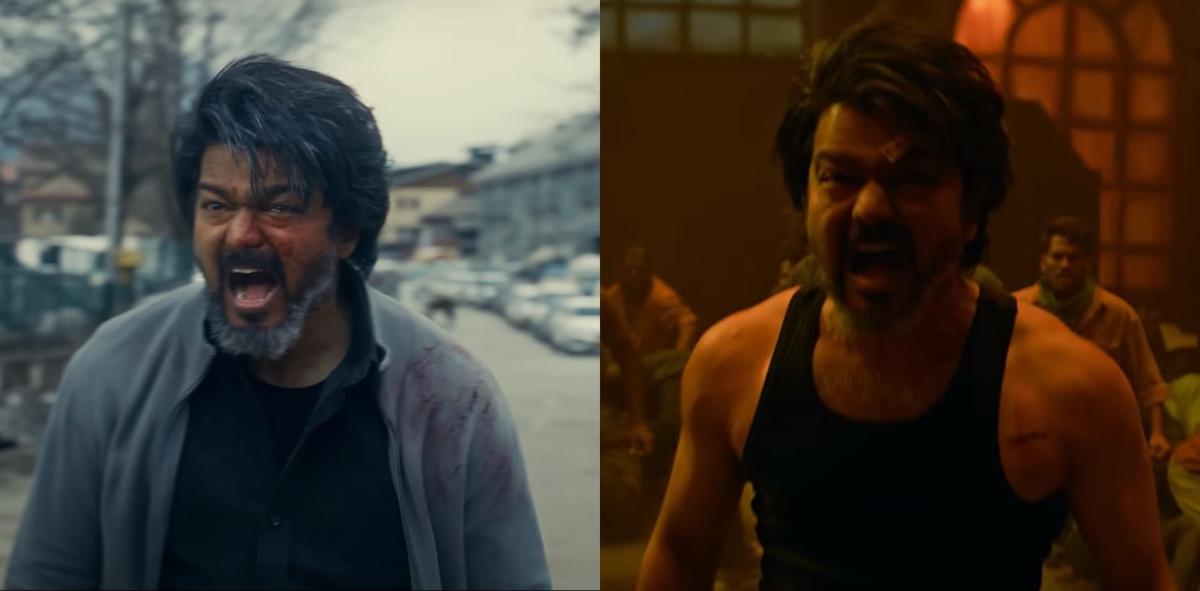 Capturing a universe
Leo being a part of LCU helps with the storytelling. Instead of introducing a new cop character, giving him an arc and spending a few scenes to establish who he is, we have George Maryan's character from Kaithi who people are already accustomed to. Similarly, in Leo's promo itself, we showed the lead character's duality as someone who makes chocolates as well as forges blades and weapons. So, the character's attributes are established even before the film starts. I find this to be the new age of storytelling. The leeway we get with character arcs and moving the story fast is the biggest advantage of a cinematic universe while, on the flip side, the expectations are a lot.
I believe that's why the LCU card isn't used officially as these films are just the foundations, and the numbers Leo is making would create interest for actors like Vijay sir to come aboard again for another LCU film. I'm seeing reviews about the first and second half of the film; I love the second half because the first half's terrain and environment are new to Lokesh and he asked me to take control and the second half is his world. Entering that was an experience. I think fans of LCU are confused about whether they want the franchise to see new frontiers or stick to what it has done till now. The general audience finds the film to be entertaining and that's how we're seeing the collection numbers we're getting now.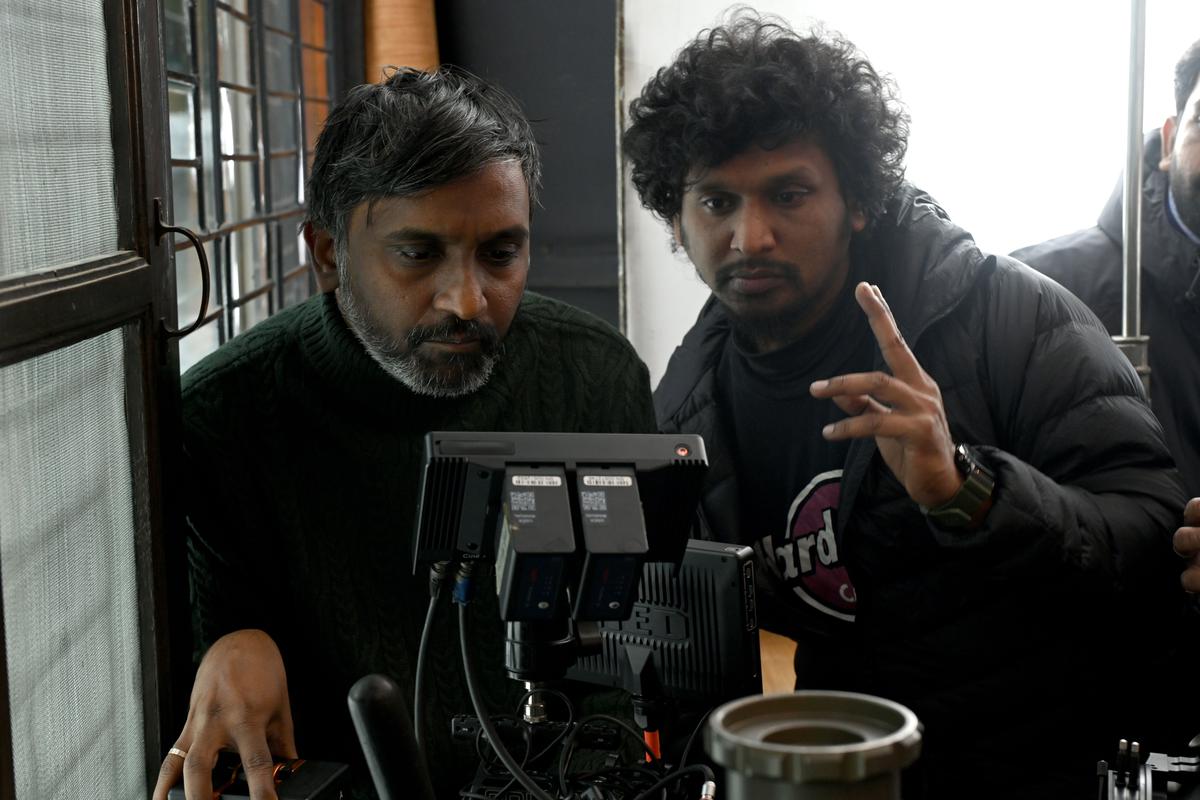 Behind the camera
As a cinematographer, I don't want to restrict myself to a particular style and that's why my films like Eeram (which had a grey tone) and Vinnaithaandi Varuvaayaa (which had a white tone) feel worlds apart. In Nanban, the three heroes were in their mid-30s but I had to show them as teenagers. Back then we didn't have de-aging technology and we shot in film unlike digital that's used today. So, we had to use lighting to achieve that output. Then comes the directors' style of working as well; Rajamouli sir and Shankar sir indulge in a lot of planning while Gautham sir wouldn't prefer that.
For Halitha Shameem's Minmini, which I'm co-producing, she wanted to shoot a scene in Chumathang which is near the China border where we have India's only natural hot spring. Shooting the vapour in the evening time would make it look fantastic and we did that too. But for a Vijay sir film, we can't take him there and technology comes to save us in these circumstances. Meeting new people creating new content and experimenting on a daily basis is what makes this profession unique. When we collaborate with someone like Lokesh who likes breaking stereotypes, it makes us happier.