In the 18th century, the then king of Benaras, Udit Narayan Singh, embarked on an ambitious project — Kanchan Chitra Ramayana, a magnificent Ramayana manuscript that was laden with gold. In the 21st century, the Kanchan Chitra Ramayana, based on Tulsidas' Ramcharitmanas, stands as a testament to the grandeur of India's artistic heritage. What sets this manuscript apart is not only its opulence, with its pages laden with gold, but also the convergence of diverse schools of miniature painting within its exquisite pages.
Perhaps, for the first time ever, people are getting to view some of those pages at an exhibition organised by the Museum of Art and Photography (MAP) in Bengaluru. While the manuscript had 1100 folios, at the show are 80 folios, some of which belong to different private collections.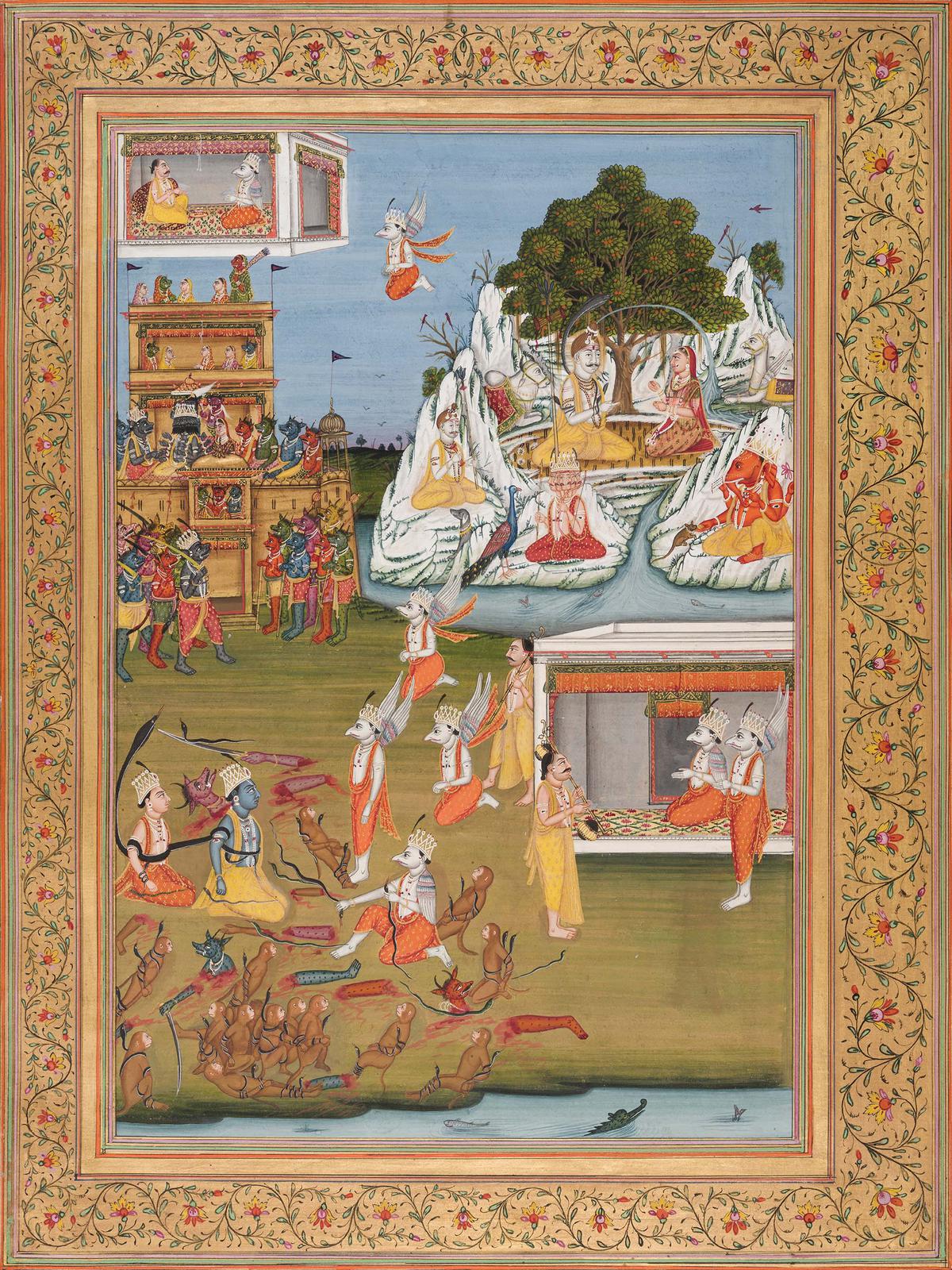 While the context of the upcoming Ram Temple in Ayodhya and the years of conflict that preceded it — one viewer at the show was actually looking for Babri Masjid in the painted folios — makes the exhibition more appealing, even without the political overtones, it's an overwhelming show that needs to be seen.
The folios painted in different miniature styles of Delhi, Jaipur, Awadh, Murshidabad, and Datia are teeming with figures in action, rich flora and fauna, and exquisite architecture that has been rendered in such fine detail.
The image on the folio depicting the gathering of astrologers to choose the day for Rama and Sita's wedding is quite interesting. Ram's father, Raja Dasrath, is deciding the time with the help of eminent priests, sages, and noblemen. Narada Muni, who was sent by Brahma to Earth to inform Dasrath of the auspicious date, is portrayed in many stages, including his arrival, his crossing of a river in Janakpur, and his subsequent seating among the assembly to discuss the date. The minutest of details are given attention by the artists from Awadh. Narada's veena is painted blue with a coconut placed in front of him, wrapped in red cloth and sacred thread.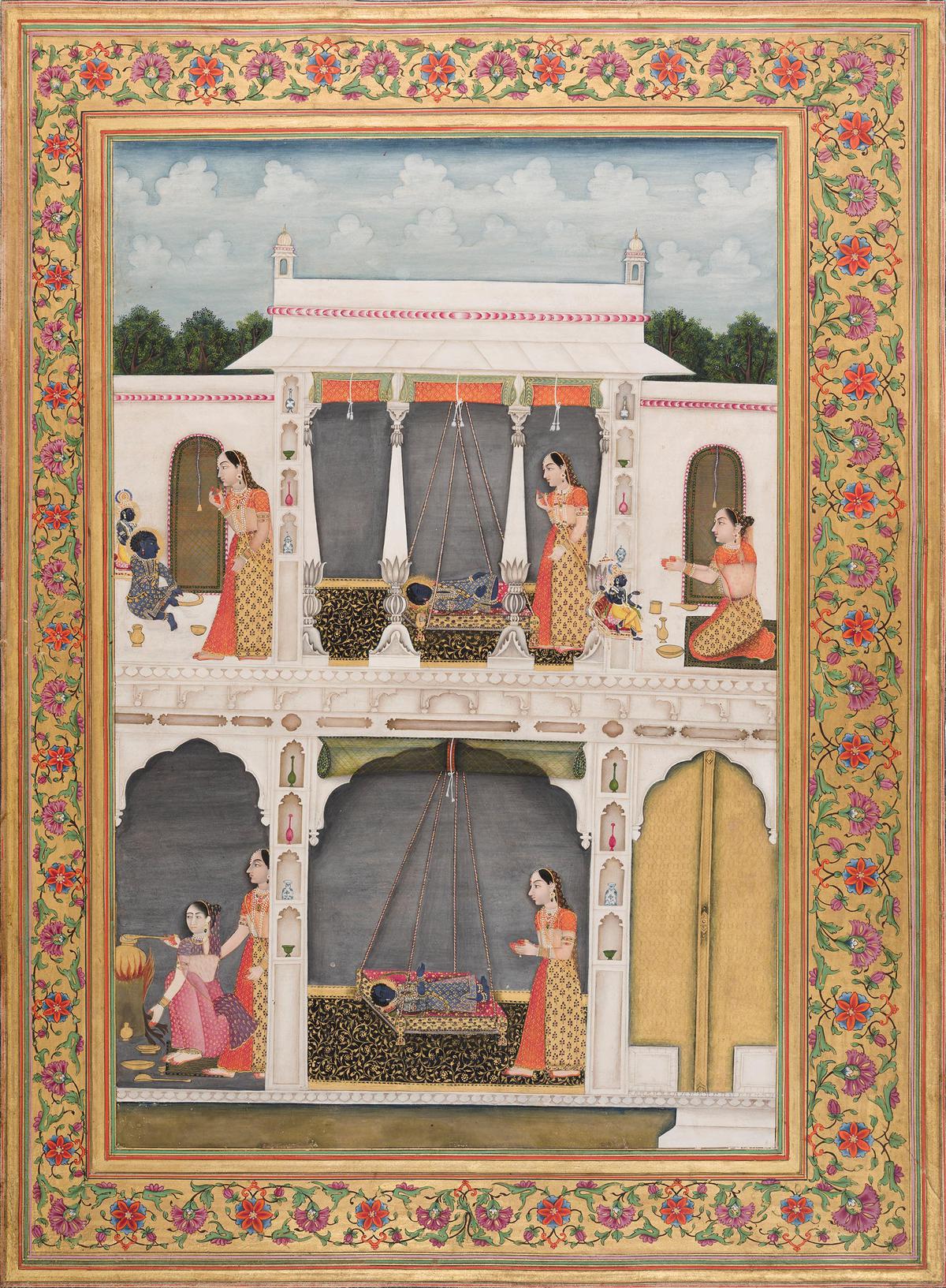 According to Parul Singh, who has co-curated the exhibition with the late Kavita Singh, Udit Narayan Singh persuaded painters from various North Indian miniature traditions to congregate in Benaras, engage in conversation with Ramayani scholars, and respond to it in their artwork.
"The project was so enormous that artists had to be called from different parts following different styles, like the reign of Pratap Singh of Jaipur, Delhi style, Datia Style. The artists had to work closely with Ramayani scholars because every text page is accompanied by a painting. It's a possibility that some of the painters might have been illiterate," remarks the art historian, who specialises in pre-modern visual and material culture with a focus on South Asian art.
Udit Narayan Singh was a pious king who promoted art and culture, but those weren't the only reasons for producing the Golden Illustrated Ramayana. Parul Singh says, "He also got political dividends out of it. His subjects took notice of him. Ramnagar became a pilgrimage centre. Ram devotees from all over flocked to Ramnagar to see it. While his father, Mahip Narayan Singh, started the famous Ramnagar ki Ramlila, it was Udit Narayan Singh who turned it into a grand spectacle."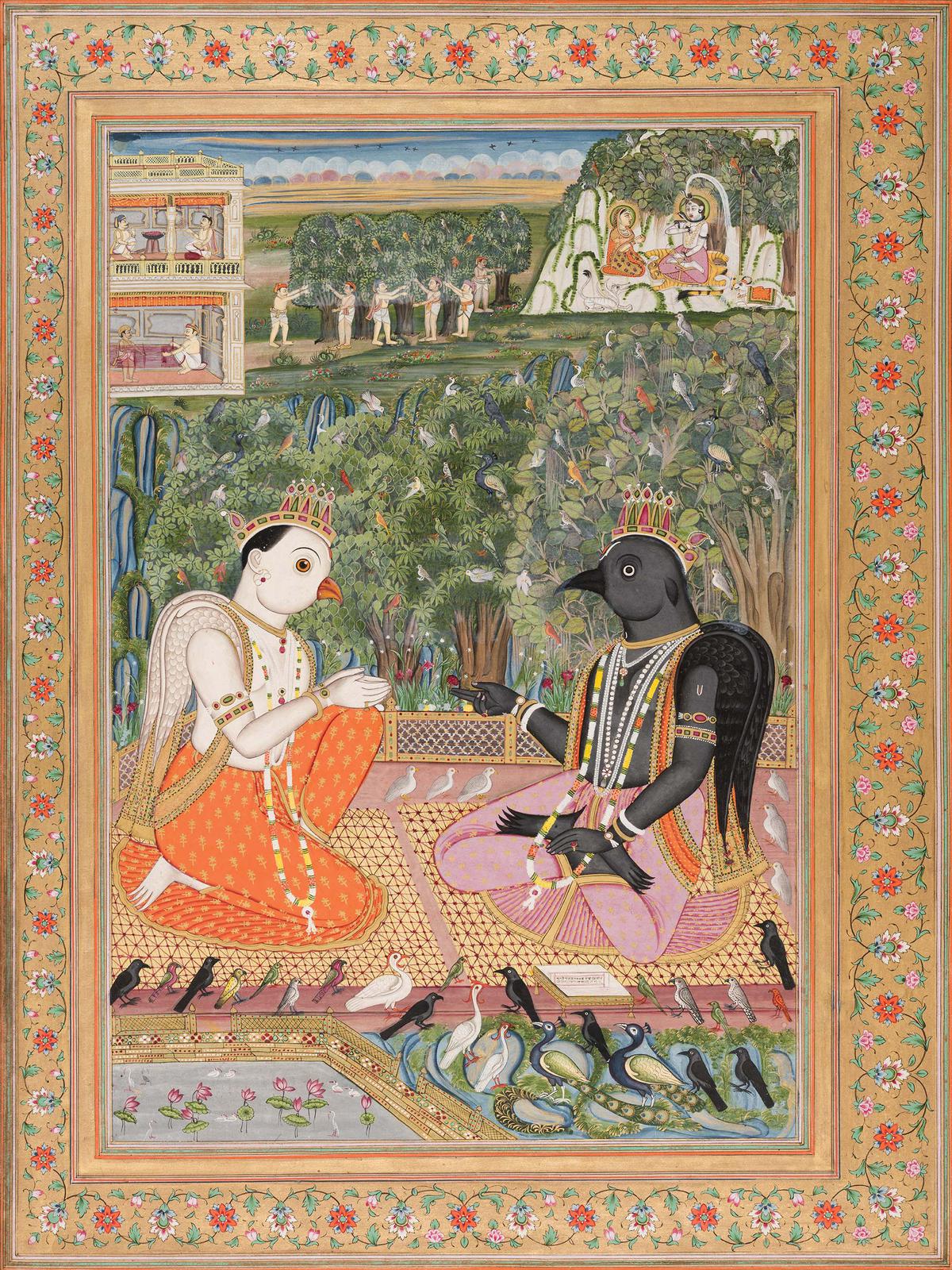 It's interesting to note that the setting of Ayodha shifts to Benaras in the paintings, which reflects in its architecture, upholstery, terrain, landscape and textiles. "The raja was a Shiv Bhakt and he built not just Shiva but also Ram temples. Ramcharimanas had suddenly become very popular in the 18th century, and it was because of the Ramanandi sect. But it appealed to a cross-section of the people, irrespective of caste and gender, in North India," says the Delhi-based curator.
There is indeed a colophon that alludes to a possible Ramanandi gathering in which Tulsidas is reciting Ramcharitmas to a diverse crowd that includes Vaishnavites, Shaiviites, a Muslim man, and women. Ramanandi is a Hindu sect that was founded by saint Ramananda, a believer in Rama, Sita and Hanuman, in the 14th century. As saint Ramanandi was against caste, community, creed and religion, the sect is inclusive.
In the show, different scenes from Tulsidas' Ramcharitmanas, which is a retelling of Valmiki's Ramayana, play out major events from Rama's life, beginning from the first kand — Bal Kand, to Uttara Kand, which is the 7th and last kand.
The Rama-Ravan battle is depicted in the folio that artists of Jaipur with the help of Datia painters created showing Rama's army besieging Lanka. Shiva and Parvati, the scene's narrators, are pictured in the bottom-left corner. Opposite them, Rama can be seen strategising with his advisors while being encircled by an army of monkeys and bears. The folio's centre is a battlefield where armies of monkeys, bears, and demons charge at one another.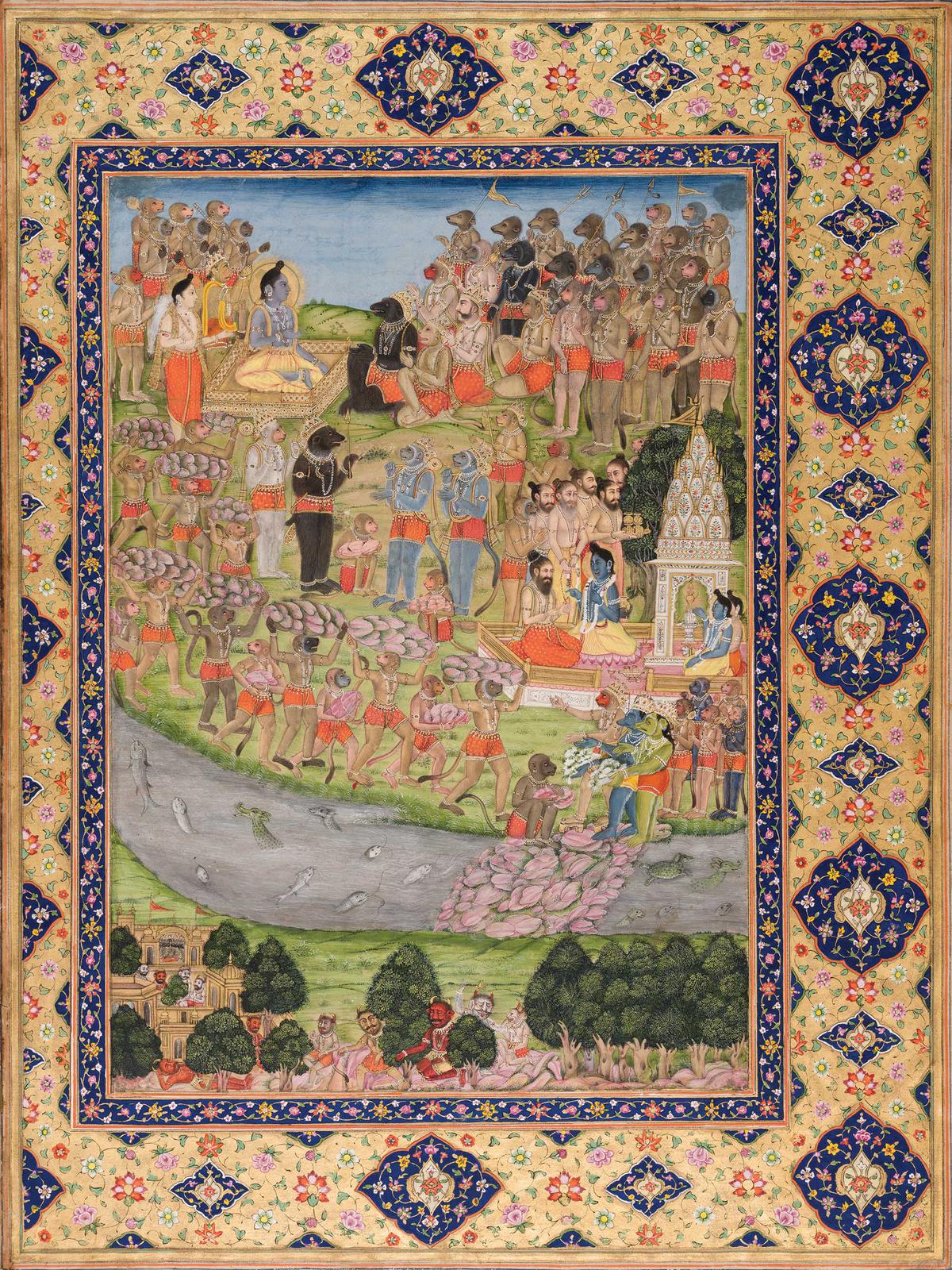 Parul notes that artists from different workshops employ typical techniques of their school, which distinguishes one style from another.
"You find different group of artists responding to Ramayani scholars. You have Mughal artists using one hair brush to depict the intricate ornamentation and detailing of the palace but they miss out on certain crucial points. For instance, a folio is about a mark that you can see on the moon. When you see the moon, you feel it has been squeezed in as an afterthought."
She points out another folio which has Nal and Neel, commanders of Sugriv's army who were entrusted with the responsibility of building the Rama Setu. "They are supposed to do crucial touching of the boulders so that the boulders can float but are missing. It looks like they were added later," adds Parul.
A few folios also feature Kaka Bhusundi, the crow sage, who plays a crucial role in Ramacharitamanas' Uttara kand.
The folios would have stayed in the private collection of the Benaras royal family, but over the past four years, they were disseminated around the art market and into the public domain. It's interesting to see that Udit Narayan's name and seal have been removed to obscure the source of the artwork. "Maybe the collector/seller didn't want others to know that this was coming from Benaras. A lot of the property was under litigation," says Singh.
The manuscript which was made over a period of 18 years (1796–1844) by hundreds of artists, is layered with meanings and contexts. The pure visual aesthetics make it even more overwhelming. Interactive elements, a holographic experience of the Kanchana Chitra Ramayana and an installation giving a glimpse of Ramnagar's Ramlila make it extremely engaging.
(The show is on at MAP, Kasturba Road, Bengaluru, till March 8, 2024. Tickets are priced at Rs. 50 onwards)