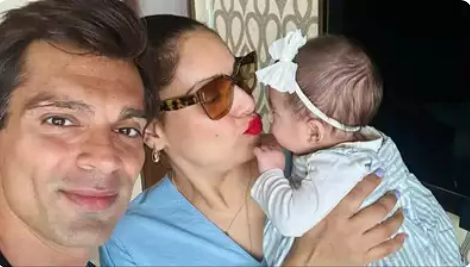 Bipasha Basu, along with husband Karan Singh Grover and daughter
Devi
recently whisked off to the
Maldives
. As Devi turned 1, the couple brought her birthday in the tropical country and also celebrated the festival of lights by doing a small Diwali puja.
Bipasha has been sharing multiple videos from her vacay diaries on her IG handle. In one of the videos, little Devi can be seen partaking in the Diwali puja as one catches a glimpse of her tiny hands.
In the other video, the birthday girl is all set for her celebrations as mum Bipasha carries her in her arms, amidst an array of balloons all around.
Bipasha Basu drops a video of her daughter Devi's pre-birthday celebration
Now, it was turn of dad Karan Singh Grover to join the fun as he shared a video playing with daughter Devi in the infinity pool. The video showed Karan lifting Devi up in the air and gently dunking her feet in the water. The doting father shared the video with the caption, "I have never been so out of words and so full with the need to proclaim at the same time before…if someday I just spontaneously combust, please don't judge me. #monkeylove"
In a recent interview with News18 Showsha, Bipasha addressed online negativity and body-shaming, stating that she remains unfazed by such comments. She encourages trolls to continue, emphasizing that their opinions don't bother her. Karan playfully adds, "As long as they're watching us, it is okay."
Motherhood has significantly transformed Bipasha's life, with Devi becoming her top priority. She had also attracted an outpouring of love when she opened up on Devi's heart condition at birth and how traumatising it was to deal with it, as new parents. She expressed how everything now revolves around her daughter, and every moment away from Devi makes her eager to return home. Karan humorously remarks that, as a husband and father, not much has changed for him, jokingly calling himself a slave with two masters.