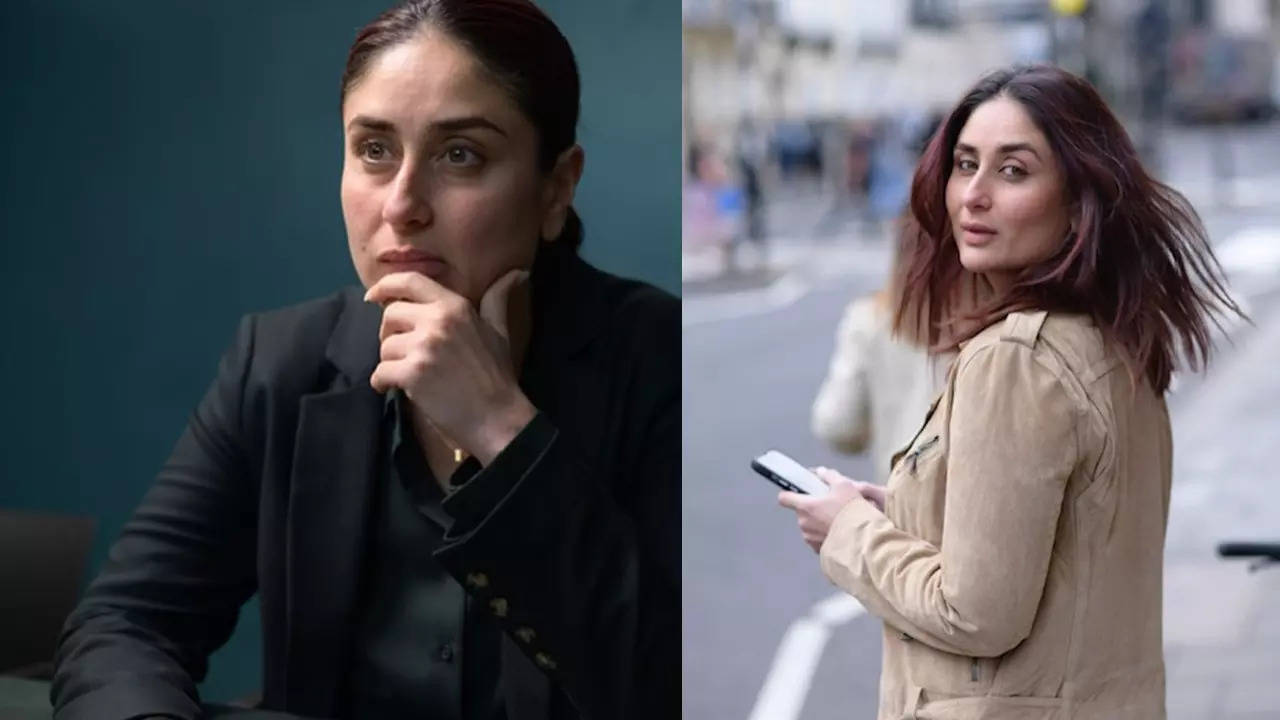 Kareena Kapoor Khan recently made her OTT debut with 'Jaane Jaan'. The actress tried to re-invent herself with this Sujoy Ghosh film co-starring Vijay Varma and Jaideep Ahlawat. But she's further gone out of her comfort zone in Hansal Mehta's 'The Buckingham Murders'. The film had premiered at the BFI London Film Festival on October 14 and it will also be screened there on October 15.Kareena is elated that from being known for her commercial, glam characters like Poo and Geet, she finally has a film which has gone to a film festival.
The actress took to Instagram to share some pictures and she spoke about her character Jasmeet Bhamra in an emotional note. Kareena wrote, "Jas Bhamra… Jas was a character I have been waiting to play for the last 23 years, being a huge fan of the detective series genre… watching everything from Karamchand to Helen Mirren in Prime Suspect to Agatha Christie in Hercule Poirot to
Kate Winslet
in Mare of Easttown, I was just dying to be that detective woman."
She further mentioned about her journey on this film and added, "On a 25-page synopsis given to me by Hansal and Ekta, I started reading it at 1 a.m., and I knew I had found the woman I wanted to be…Ekta, Hansal and I set off on this journey to make a slightly unconventional film, but a film that is with heart, a bit of a smile, and, oh my god, lots of tears…"
Kareena still can't believe that she's turned producer and confessed she's feeling odd writing it. "It played at the British Film Institute last night, and as this film starts its journey… in the world of movies… I couldn't be more nervous and excited as an actor and a first-time producer… I feel so odd writing that… but I feel really cool…So giving you all a glimpse of this gem we made… into the world of Jas Bhamra I do hope Jas hasn't ended her journey yet, because it's been a dream to continue this wonderful yet strong woman whose grief is beyond measure but stronger than she knows.," expressed Bebo.
Ekta Kapoor who has co-produced the film with Kareena commented on this post and said, "Five min into d film n ppl will forget they r seeing Kareena d superstar !!! U follow Jass n ur never gonna forget those eyes !!! Deep sad grieving n …determined !!! @hansalmehta @kareenakapoorkhan" Ekta revealed that India will have to wait till next year for the film's release and it will travel to more festivals before that.
Kareena's sister Karisma Kapoor and many of her friends from the industry cheered for her. "No one like u bebo ❤️," commented Malaika Arora.