Anusha S., a homemaker in Kochi remembers listening to a recitation of Othello in Malayalam, in the 1990s. Suddenly William Shakespeare's Othello was freed from the pages of an English text. She was nine years old then. After more than three decades, she still remembers the characters, the author standing taller than others in a galaxy of writers she has since encountered. Like Othello and The Brothers Karamazov, stories of Mary Magdalene and Cleopatra were also retold in the Kathaprasangam style that intersperses fluid prose with song to the accompaniment of a harmonium and tabla. However, the art form began 100 years ago, with tales of oppression and untouchability, of human triumphs and tears.
Kathaprasangam promises to fight another day as an eagerly awaited event at the annual school arts festivals, described as Asia's largest youth gathering of its kind. Here, well trained young people compete against each other to bag top honours. The three winners and even participants get marks that help in their promotions. 
"There is no art form that communicates with people with so much urgency and directness as Kathaprasangam," says Vinodkumar Kaitharam, a Kathaprasangam artiste, involved in the performing art's revival. He said Kathaprasangam artistes like V. Sambashivan, Kedamangalam Sadanandan, and Kollam Babu have held a mirror to society with great effect.
The legacy of Kathaprasangam has come down to dedicated enthusiasts. Pala Nandakumar, for instance, travels across Kerala holding workshops, training sessions, and awareness classes on the historic settings against which the art form needs to be seen. He has trained hundreds of young people in Kathaprasangam over three decades, he said.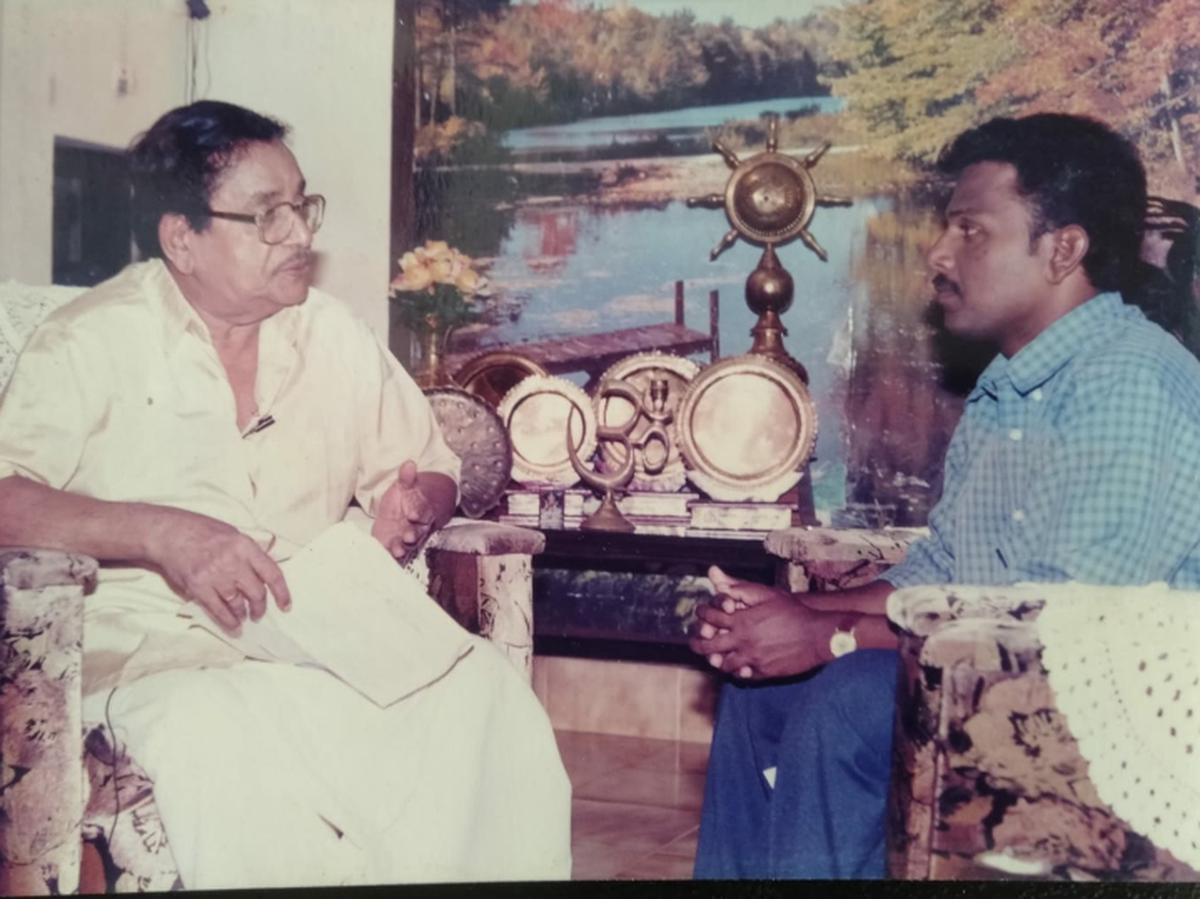 It all began a hundred years ago on a school veranda in Vadakkumpuram, near North Paravur, when artist Sathyadevan, aka Neelakanda Bhagavathar, chose to tell the tale of Chandalabhikshuki by Kumaran Asan. The poem brings home the harsh reality of the caste system, where even the kindest of human actions is put through the lens of caste considerations. Bhagavathar was a follower of social reformer Narayana Guru, who helped topple the caste-ridden Kerala society through his life's example and teachings in the late 19th and early 20th centuries.
The lyrics for the Kathaprasangam were written by social reformer and crusader against untouchability Pandit K.P. Karuppan. C.K. Kunjuraman, a linguist and scholar from Thalassery. He suggested that the new way of storytelling be called Kathaprasangam.
If Kathaprasangam had its origins in the fight against casteism and dominance of superstitions, it is even more relevant today when religious identities are violently being asserted to the detriment of society, says Titus Gothuruth, a cultural activist, who is part of the group organising programmes to celebrate the centenary of the first Kathaprasangam.
Pala Nandakumar, who has worked in the field for over four decades, says that the popularity of new vehicles of entertainment may have diminished the interest in Kathaprasangam of late. However, there are young people who still eagerly listen to new stories and learn to tell them using new media.
Artistes like Kaitharam Vinodkumar have garnered thousands of followers on Youtube. He said his story Irattamugham have drawn nearly 2 lakh viewers on the channel. From a humble lower primary school verandha to YouTube viewers in 2023 the distance has been long, but Kathaprasangam promises to use new vehicles to reach people through its young, tech savvy practitioners.