Near the end of Netflix's 2023 sports biopic Nyad, marathon swimmer Diana Nyad has just finished a 53-hour swim from Cuba to Key West, Florida, a swim "much closer to impossible than to possible." As she staggers out of the water, her face swollen from uninterrupted exposure to salt water, her body exhausted, she says three things: 1) Never ever give up 2) You're never too old to chase your dreams, and 3) It looks like a solitary sport, but it takes a team.
These words, though seemingly clichéd, ring with an emotional poignancy, coming as they do at the end of a long and arduous journey traversing unpredictable currents, sharks and box jellyfish. They also serve as a good indicator of the tone and feel of the rest of the film, which, like most sports biopics, is unapologetically uplifting.
The subject of the film, Diana Nyad, a long distance swimmer shot to national attention in 1975, when she swam around Manhattan in record time. Three years later, she attempted to swim from Havana, Cuba to Florida inside a 20*40 foot steel shark cage – but couldn't complete the swim due to strong Westerly winds that kept slamming her against the cage. The film begins more than 30 years after that day. Nyad (Annette Bening), now 64, is living with her best friend Bonnie (Jodie Foster), as the two go about their grocery shopping, and talk of playing scrabble. Between the mundanities, Nyad obsessively relives her glory days as a star swimmer, her reveries punctuated with frustrations at how mediocre the world has become. Like all those who were once in the spotlight, Nyad has a hard time letting go of it. She finds herself getting older, and realising that, "the world is done with her." But as it turns out, "she isn't done with the world." 
Also Read | 'Fingernails' movie review: Sci-fi romance tests humanity against technology, but plays it too safe
The marathon swimmer hasn't ventured into water since her unsuccessful attempt in 1975; all of a sudden, at 64, decides to give it another go. After all, her name 'Nyad' means 'water nymph', something she doesn't let anyone forget. In fact, the film takes pains to portray Nyad's rather self-obsessed personality, where she can't stop harping on her own past achievements. At one instance, Foster tells Nyad that she suffers from a "superiority complex", to which her immediate rejoinder is, perhaps everyone should have one. There are also hints of the sexual abuse that a young Nyad experienced at the hands of her coach; something that damaged her self-esteem, and caused her to embellish and self-aggrandise.
Nyad
Directors: Elizabeth Chai Vasarhelyi, Jimmy Chin
Cast: Annette Bening, Jodie Foster, Rhys Ifans
Duration: 120 mins
Storyline: At the age of 64, marathon swimmer Diana Nyad attempts to swim from Cuba to Florida
Then again, perhaps it takes that level of narcissism to attempt the impossible. Between 2011 and 2013, Nyad attempted to swim from Cuba to Florida three times, this time without a shark cage and accompanied by a dream team of Foster as coach and John Bartlett (Rhys Ifans) as navigator. She doesn't succeed, instead being pulled out of the water for various reasons, including an asthma attack, being bitten by a box jellyfish and bad weather. But of course, she doesn't give up, and on September 2, 2013, finally makes it all the way to Florida after 53 hours in the water, becoming the first person to complete the swim without a shark cage.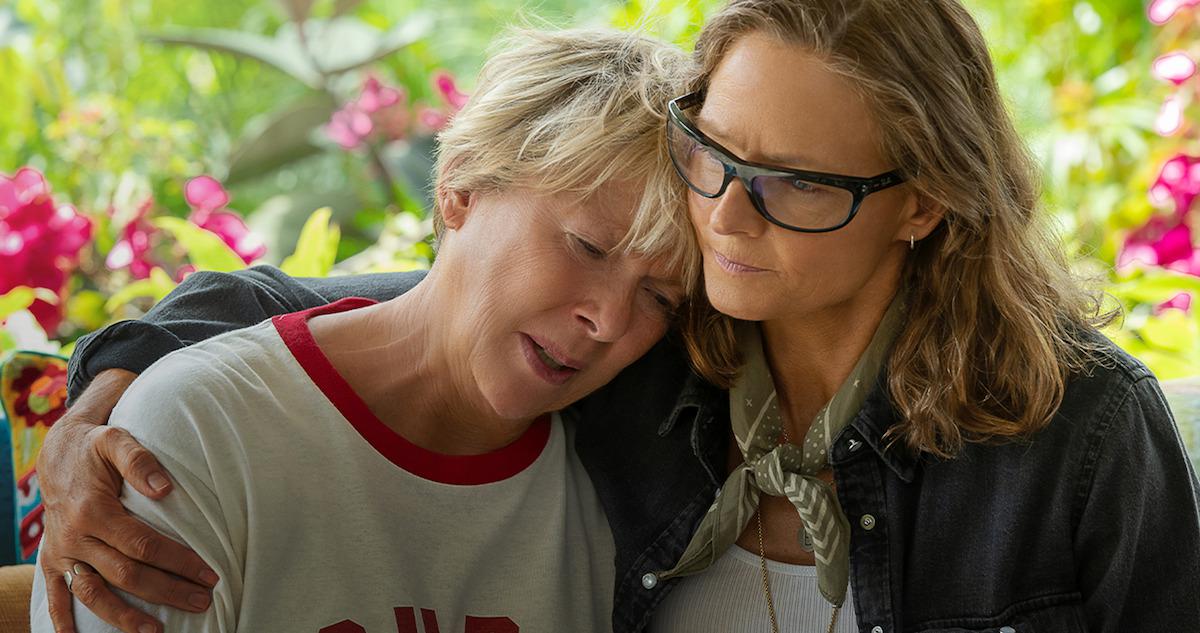 The film does a great job portraying the sheer force of Nyad's will, which doesn't quit in the face of every and any odds. At times, her stubborn insistence on moving "onwards" no matter external factors is strangely beautiful, and had me almost tearing up. Other heartwarming moments in the film come from the unwavering bond between Nyad and Bonnie, which is a mishmash of the handler-swimmer dynamic, not to mention friendship and family. Foster and Bening deliver moving performances, and it's no wonder that the film is already coming up in Oscar talks. 
One significant caveat to it all, though, is that there are some questions about how Nyad's historic swim was conducted, and if it was, indeed, above board. It is important to note that the World Open Water Swimming Association has not ratified Nyad's swim, citing concerns over how she used a specially-designed jellyfish suit and was also touched by various people over the course of her swim – something not allowed by the rules of marathon swimming. But according to the makers of the biopic, Jimmy Chin and Elizabeth Chai Vasarhelyi, such esoteric rules and technicalities are not what their film is about. Like Vasarhelyi told the LA Times, "Our film is not about a record. It is not about how many times someone was touched. It's about how a woman woke up at 60 and realised she wasn't finished."
Nyad is currently streaming on Netflix