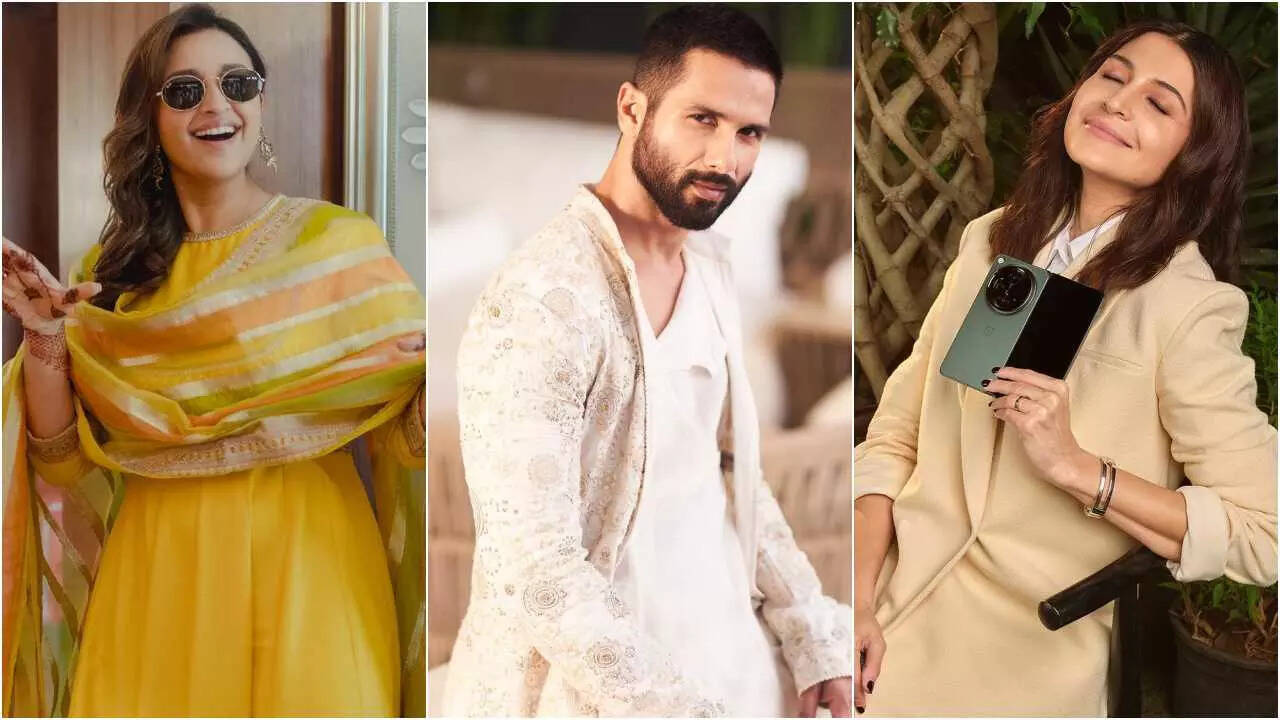 With the festival of lights being celebrated with enthusiasm and excitement around the country, Bollywood celebrities are also expressing special Diwali greetings for their fans. Parineeti Chopra,
Priyanka Chopra
, Karan Johar, Kiara Advani, and
Shahid Kapoor
have all posted wishes for Diwali on their social media accounts.
Actor Priyanka Chopra Jonas wrote, "Let there always be light…#Happy Diwali"
Kiara Advani took to social media and shared a series of stunning pictures with her husband and Yodha actor Sidharth Malhotra.She captioned the post, "My love and light…Wishing you all a very Happy Diwali"
https://www.instagram.com/p/CzidVtWPOhM/?img_index=1
The day is more meaningful for Parineeti Chopra because it would be her first Diwali since her marriage to Raghav Chadha. She added, "Happy Diwali" after sharing a photo of a gorgeous corner of her house lighted with candles and decked with rose flowers.
Suhana Khan
sharing her gorgeous look for the festivity wrote in the caption, "Happpy Diwali"
https://www.instagram.com/p/Czi2hiyCfEJ/?img_index=1
Sara Ali Khan turned to social media to share a series of beautiful family photos from Diwali with her grandmother, brother, father, and aunts. She said, "Happy Diwali from the Pataudi Parivaar…Shanivaar Bataod saprem namaste and bahut SARA pyaar"
https://www.instagram.com/p/CziTEmyobE9/?img_index=1
Shahid Kapoor took to his Instagram stories and shared a photo of candles and diyas. Along with the picture, he wrote, "Happy Diwali"
Kriti Sanon, Kiara Advani, Sidharth Malhotra, Mouni Roy and other celebs extend Diwali wishes to fans
Sanjay Dutt took to his social media handle and shared an adorable family picture.
He wrote in the caption, "Embracing the warmth of lights and the glow of togetherness with my family. Wishing you all a Diwali filled with love, laughter, and countless moments of joy. Grateful for the light you bring into my life. Happy Diwali from our family to yours!"
https://www.instagram.com/p/CziWRHwvvMc/
Ajay Devgn also took to his Instagram story and posted a Diwali wish for his fans.
Sonakshi Sinha shared some enthralling peeks of her Diwali celebrations. She is seen holding a lit diya in the first photo, followed by a couple of cute snaps alongside the rangoli.
She wrote in the caption, "The festival of light and love, lets celebrate with kindness and compassion"
https://www.instagram.com/p/CziVt0aoaAe/?img_index=1
Anushka Sharma also extended special Diwali wishes to her fans and wrote, "May the light dispel all darkness of ignorance this Diwali"
Arjun Kapoor also posted Diwali wishes on his Instagram stories.
Neetu Kapoor shared a beautiful picture with Alia Bhatt on her Instagram stories.
Athiya Shetty also shared Diwali wishes.
Sushmita Sen wrote in her Diwali wish,"Happy Diwali to you & all your loved ones!!!Wishing you health, wealth, prosperity, happiness & love!!! Love you guys!!! #duggadugga.. I missed you shona @_alisah_09..you complete the picture!!! Warm, love & Regards."
https://www.instagram.com/p/CzixFDKtoLA/
Bollywood diva Madhuri Dixit also wished her fans on Diwali.
Suniel Shetty shared glimpses of Diwali puja being performed at his house and wrote, "Happy Diwali"
https://www.instagram.com/p/Cziva4QBkwc/?img_index=1
Karisma Kapoor also shared a series of pictures with family and friends on her Instagram handle. "Family, Food and Festivities..How it started and how it ended," she wrote in the caption.
https://www.instagram.com/p/Czib-NSrQS6/?img_index=1
People all across the country are all decked up for Diwali. Houses have been decorated with colourful lights, rangolis, and flowers to celebrate the festival of joy.
Diwali is observed on Amavasya (or the new moon), the 15th day of the month of Kartik, every year. This year, Diwali is being celebrated on November 12.
Diwali is the festival of lights. It symbolises the spiritual victory of light over darkness, good over evil, and knowledge over ignorance.