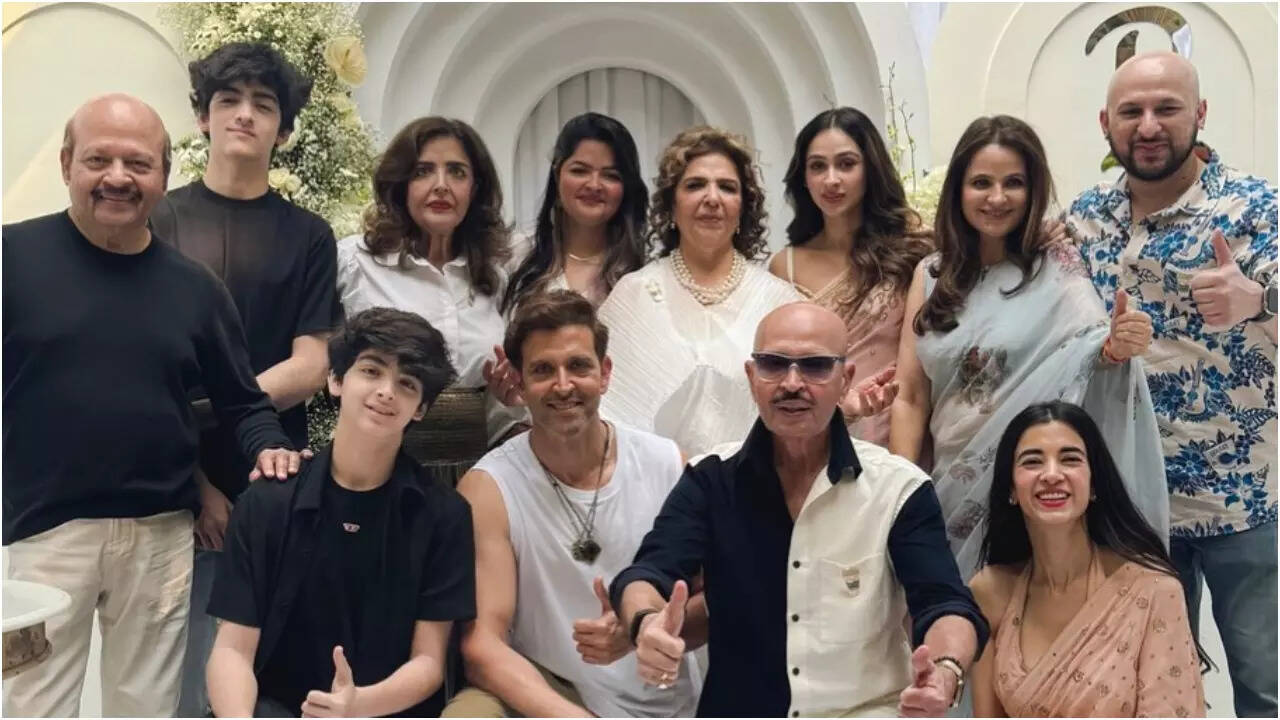 Today marks the 70th birthday of Hrithik Roshan's mother, Pinkie Roshan. To celebrate this special day, the entire Roshan family, including Hrithik, Hrehaan, Hridhaan, Rakesh Roshan, Rajesh Roshan, Kanchan Roshan, Eshaan, Pashmina Roshan, Sunaina Roshan, and Suranika, came together for a memorable celebration. Saba Azad, who is the girlfriend of Hrithik Roshan, also attended the party.
Hrithik Roshan
and Saba Azad have been in a relationship for some time, and she often joins the Roshan family for special occasions.
Pashmina Roshan shared a photo from the birthday celebration on her Instagram. In response to the post, Rakesh Roshan commented with, 'Nazar naa lage .'
On the morning of her birthday, Hrithik Roshan posted a video on his Instagram showing his mother, Pinkie Roshan, dancing on the gym terrace. He captioned the video with a heartfelt message, "Chaplin said 'to truly laugh, learn to take your pain and play with it.' Mama, this I learn from you 🙂 Happy 70th birthday my Supermom! There isn't anyone like you! Here's to an adventure that has only just begun!! I love you ,C'mon everybody!!! Clap your hands."
Many celebrities left comments on the video, including Preity Zinta, Ishaan Khatter, Sonali Bendre, Huma Qureshi, and Rakesh Roshan, all expressing their good wishes and happiness.
Suranika Roshan, Hrithik's niece, also posted a birthday tribute to her grandmother, Pinkie. She described her grandmother as a source of strength and joy for the family and shared heartwarming photos.
Hrithik Roshan shares mother Pinkie Roshan's dancing video on her birthday, calls her a 'supermom'
In terms of work, Hrithik Roshan is currently working on his upcoming film "Fighter," which also stars Deepika Padukone and Anil Kapoor.