Debutant Umesh K Krupa's Tagaru Palya begins with Pandappa (Rangayana Raghu) inviting the village community for a feast. He is thrilled to have found a groom for his daughter Jyothi (Amrutha Prem) and to celebrate the outcome, Pandappa sets out to sacrifice a male sheep, a promise he made to the local deity long back.
The sacrificial ritual is scheduled around the deity next to a scenic waterfall. The backdrop establishes the film's genre right away. But, when you witness characters talking to each other in a loud and identical tone, you are left agitated by the stereotypical portrayal of villagers. It is the first sign of things to come in Tagaru Palya.
The film's incidents happen in one day (sunrise to sunset). The drama kicks in when the sacrificial sheep refuses to cooperate while Jyothi's mother (Tara Anuradha) learns that her daughter has decided to elope with her lover. The film's limited location and timeline promise exciting possibilities, but they aren't devoid of challenges which the writer and filmmaker Umesh K Krupa fails to overcome.
Tagaru Palya has an array of characters meant to evoke humour. But be it the priest, chief, whiney senior citizen (Vijanath Biradar), and drunkard, none of them are quirky enough to make us laugh out loud. These characters mouth loud dialogues and resort to repetitive mannerisms, and when these ploys fail to click, the director makes them hurl cuss words to force comedy into the proceedings.
Tagaru Palya (Kannada)
Director: Umesh K Krupa
Cast: Nagabhushana, Rangayana Raghu, Tara Anuradha, Amrutha Prem
Runtime: 130 minutes
Storyline: Pandappa from a remote village finds a match for his daughter. He decides to sacrifice a male sheep to celebrate the development. Things turn chaotic when the sheep refuses to cooperate
Nagabhushana, who portrays an innocent, hard-working man and Tara stand out amidst the chaos. Their performances show that rural characters can strike a chord by being subtle and natural. Director Umesh worked as an assistant to Yogaraj Bhat, who nailed the authentic dialect, wrote characters that suited the backdrop and reflected realities without compromising with entertainment in village dramas such as Drama and Dana Kayonu. That level of detailing feels amiss in Tagaru Palya.
After establishing the crux of the story, it's apparent that the director is clueless about fleshing out his core idea, as the film feels like a drag with redundant scenes. A realistic backdrop cannot shield cinematic contrivances. The director's black-and-white perception of villagers and city-born people is bothersome as well. The film represents villagers as either naïve or short-tempered. The Bengaluru-born IT professional (Vasuki Vaibhav in a very unfunny performance), the groom to marry Jyothi, is shown as an exotic fool, uninformed about the simple things in life.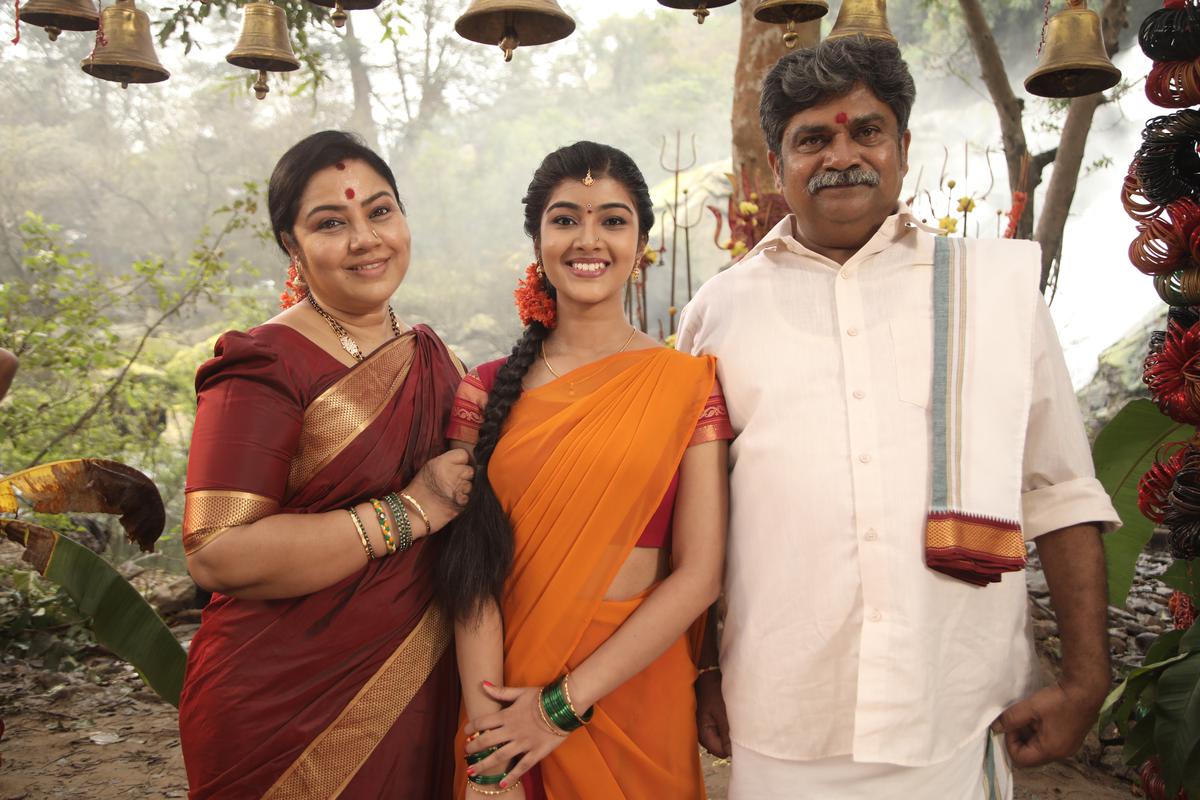 Tagaru Palya is watchable when it doesn't take itself seriously. Whenever the film enters the message-heavy zone, it becomes preachy as we see characters giving us lessons on relationships and the beauty of village life. So, what's that one new thing we learned from Tagaru Palya? Does it offer anything different from the daily soap operas? Your guess is as good as mine. The sheer lack of personality in the central characters weighs the film down. Why not show Jyothi, the young girl, as brave enough to take a call on her life partner right in the beginning? Why conveniently wait till the end to reveal this sensible side of hers?
The film's commentary on the have-nots from villages forced to move to cities is relatable. The problem lies in the fact that it romanticises the struggles of village life and overlooks the underlying issues in the relationship dynamics of rural people. At the same time, it judges people from cities as cunning and greedy, and they don't receive a single redeeming factor. This myopic vision from the filmmaker wrecks the film's premise.
ALSO READ: How Kannada cinema debunked the pan-India theory 
Tagaru Palya is produced by actor Dhananjaya under his banner, Daali Pictures. The banner has come to be known for promoting debutant filmmakers. While that's appreciable, it would need better scrutiny of scripts from Dhananjaya for his production house to offer films that stand the test of time.
Tagaru Palya is currently running in theatres.